STAIRWAYS TO HEAVEN
Greetings of the Season .. Happy New Year!
How was your 2017 in terms of your fitness .. what were your fitness goals for the then New Year 2017 .. what were your resolutions exactly one year ago .. did you realize your goals?
Do let me know .. 😊
In October 2016, just for a lark, I joined my younger brother, avid squash player and high-altitude trekker, Pradeep, on a trek to Annapurna Base Camp.
In June 2016, Pradeep had popped the question: "Join me on the Annapurna trek?" I said, "Yes!" instantaneously.
I had not climbed a hill, leave alone a Himalayan range of mountains, these last 31 years. I was unfit by my own standards. I had undergone two arthroscopies on my left knee. My ortho, a childhood friend, and leading surgeon, had very gently cautioned me that a knee transplant was in the offing, much sooner than later.
So, why did I accept his offer to join him on the trek? I knew the trek was tough – tougher than what Lonely Planet makes it out to be 😉
Reason # 1
A spiritual quest.
Annapurna is a Goddess. To the "Western" mountaineers, Annapurna presents a massif comprising 30 peaks over 6,000 meters including 13 over 7,000 mts and one above 8,000 mts. But to the Nepalis and Indians, She is a Goddess. I sought Her darshan. What better way to rekindle my love for the Himalaya than with this darshan?
Reason # 2
Physicality. Any challenge to my (meager) fitness limits attracts me.
The Annapurna Base Camp is just about 14,000 feet asl. But the trek is physically brutal, particularly on Days #s 2, 3 and 4 – assuming you start the trek from Naya Pul You climb like hell – in some sections, the gradients are so steep that you really cannot stop midway – else, you might totter backward and into the canyons! The number and frequency of tea houses are so low, you don't get to see a fellow trekker for kilometers!
Reason # 3
Fitness. It comprises 16 fitness goals/types.
Fitness is not just puffing your chest as bodybuilders ought to do, nor is it huffing a weight as lifters ought to do. Nor is it marathon running, These athletes express fitness conditioned to their specific sport – hence the science of Sports Conditioning.
The ABC trek provided me an opportunity to test myself against parameters for most of, if not all, the 16.
Reason # 4
Resolutions for NY 2017!
After trekking to Annapurna Base Camp (ABC), in October 2016, I resolved to attempt two high altitude trips in 2017: the Snow Leopard "observation trips" out of Rumbak (about 15-16,000 feet asl, within the Hemis National Park in magnificent Ladakh, India) and the "upper Everest trek" to the Everest Base Camp (EBC) located at 18,150 feet asl (heights vary according to which source one refers to).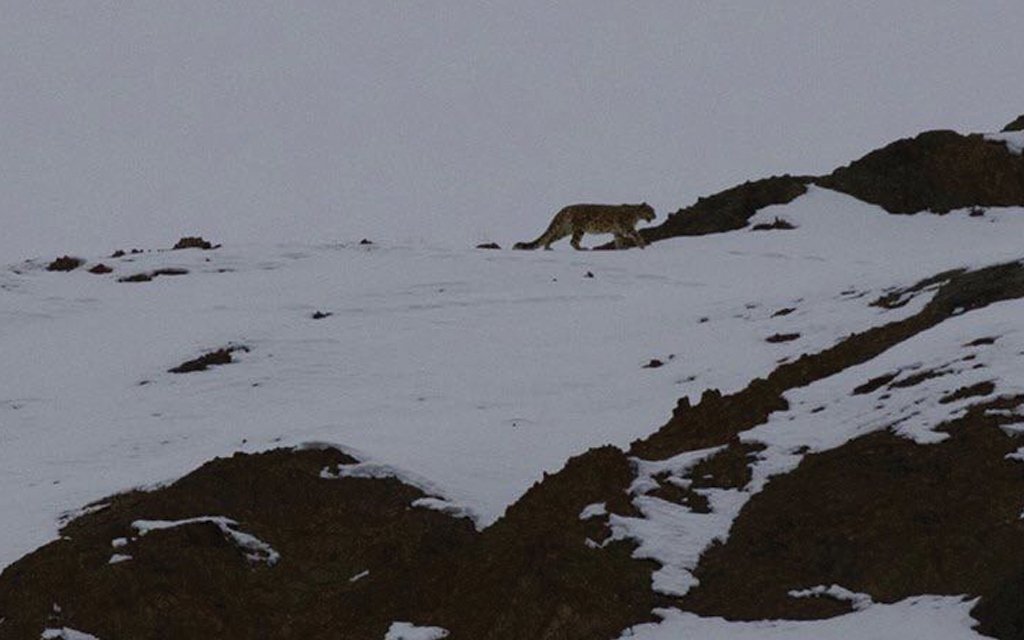 I was lucky to complete, successfully, both Rumbak and EBC treks.
I am not unique in trekking to the Everest Base Camp. Each year, about 40,000 attempts the EBC trek. Many fall short of the goal due to high altitude sickness, injury.
The call of the higher Himalayas apart, overcoming, joyfully, the sheer physical challenges of trekking across long distances, climbing up and down and then again up and down, strongly appeals to me. It is sheer pleasure! To help overcome the physical challenges and pain, one needs mental toughness. I have that too, it looks like!
Of the 16 fitness goals that I know of, the only one that was not tested, perhaps, was "limit strength". There is no way I could do a 1RepMax at 18,000 feet above sea level – unless, of course, I see each step walking forward at that altitude to be akin to maximum effort, a step at a time! Local muscular endurance, aerobic endurance, dynamic balance et al – all these goals were tested and achieved like never before!
Maybe, my astrological stars' conjunction was perfect enough to protect me from the ill effects of high altitude sickness and trek-related injuries – no, not even a stubbed toe or a blister did I suffer from!
Certainly, loads of garlic and potato soups, mint tea, and noodles with fresh vegetables fueled my climbing!
What about Rumbak? Well, the trek duration, terrain et al is dictated by the magnificent Snow Leopard although we were located at about 15,000 feet asl. Early March meant the temperatures ranged between −30 and −5° C. There is less of trekking but you have to meet the physical challenges of sub-zero temperatures and high altitudes in cold, arid conditions.
All high-alt treks are physically and mentally challenging – and thoroughly energizing!
Was I tired? Bored? Not at all!
Each morning I woke up with a "pleasurable" ache or two and a "flushed" kind of feeling, raring to climb on!
The added motivation for me was to display the logos of our long-standing education partners – International Sports Sciences Association – ISSA (USA), the BPCA's College of Physical Education – and our own Academy at the Everest Base Camp!
ISSA has nearly 200,000 students in over 90 countries. BPCACPE is one of India's premier Phy Ed colleges, permanently affiliated with the University of Mumbai and accredited by NAAC, Government of India, in Grade "A". Our Academy has over 16,000 students; we teach programs in over 20 cities.
Displaying the banners at the EBC was one way of paying my homage to ISSA and BPCACPE. It was one way of paying my respects to the late Dr. Fred Hatfield, co-founder of ISSA, legendary Guru of Exercise Sciences.
I thank my long-time friend and ISSA CFT, Nikhil Navalkar and my younger brother Pradeep for helping with the logos/flags at the EBC. More of Nikhil later in this post.
Personally, I experienced a form of spirituality that I can't seem to seek in temples. As I see it, each step up the steep mountainsides takes you to your "True North". With its ups and downs like successes and failures in life, a huge variety of stones and rocks to step on with each stone representing a decision, sharp twists and turns, a trek mirrors life! As you climb up a ridge or take a sharp turn, you expect to see magnificent mountainscapes – only to find the peaks play hide "n seek with you fro1m behind the clouds. The magnificent Ama Dablam, wrapped in tinsel as it were, peak peeped at us from behind the clouds, oh, so joyously!
The EBC trek is LIFE! What fabulous memories . . !
I have lots of photographs and scores of GoPro video clips. But, forever etched in my mind are the breathtaking views of snow-clad peaks including the shy Mt. Everest (Sagarmāthā in Nepali, Chomolungma in Tibetan) hiding behind the ever loyal, solid Nuptse, the Island Peak – the peak to train on before attempting to summit Everest, the mighty peaks of Kongde, Lobuche, Lhotse, Pumori, Thamsherku and Tauche, and the elegantly sculpted peaks of Ama Dablam and Kusum Kangri. From the EBC, one can only see the Everest's South Col, with Nuptse standing right in your face, Pumori and a bit of Lhotse.
Magnificent Nature!
On the other hand, the scenes from Everest Base Camp also have a grim, forbidding element. The Khumbu Icefall, the Khumbu Glacier, avalanches and, generally, the terrain around EBC evidence the fact that this region is churning with subterranean activity.
The Himalayas are growing in height, so there has got to be some "churn" as a result of tectonic forces in play. As we returned from EBC to Gorak Shep, we witnessed a mighty avalanche on the lower slopes of Nuptse, on the opposite side of the glacier. The roar of the avalanche akin to that of 1000 jet engines reverberated across the glacier.
On a lesser level, anabolism and catabolism are two sides of the same metabolic coin . . mesmerizing to see Nature's Forces at play!
Dramatic views from narrow trekking trails overlooking steep mountainsides. . . brilliant shades of blue skies … the roar of the omnipresent Dudh Kosi river whose banks you keep switching . . . climbing up, the ever-diminishing tree line above which trees give way to bushes and flowers and then to tufts of grass and yet finally to just rock and rubble … Himalayan birds like the Alpine Chough, and wild mountain goats who keep following your movement, all added to the pleasures of trekking to the EBC! And yes .. the "swing" bridges high over the Dudh Kosi!
As always, I loved meeting and greeting fellow trekkers (from every corner of the world), making friends over a cup of mint tea. I remember meeting a former competitive bodybuilder from Texas – he was enjoying himself in the Himalayas! It was nice meeting "Jim", aged 52, from Los Angeles – he was already facing the effects of high altitude sickness at about 13,000 feet asl but despite this was in great spirits.
Several poignant moments three of which I must mention here.
Hingma Tshering Sherpa, aged 12, helps her father in the tea shop which is really the front room of their tin roofed clapboard house. She treks to and from school which is an hour away she says – to us it is about 2 to 3 hours away each way.
Nikhil Navalkar is an avid marathoner. On the way from Namche Bazar to Phortse, we were delighted to see athletes from across the world participate in the 64K Ultra Marathon along the high-altitude trail from Namche to Renjo Pass via Gokyo and back. At some point, one of the runners slowed down with cramps. It was so touching to see Nikhil give him his water bottle and words of encouragement – from one long distance runner to another, for after all they share the same passion. The photos show Nikhil with the runner.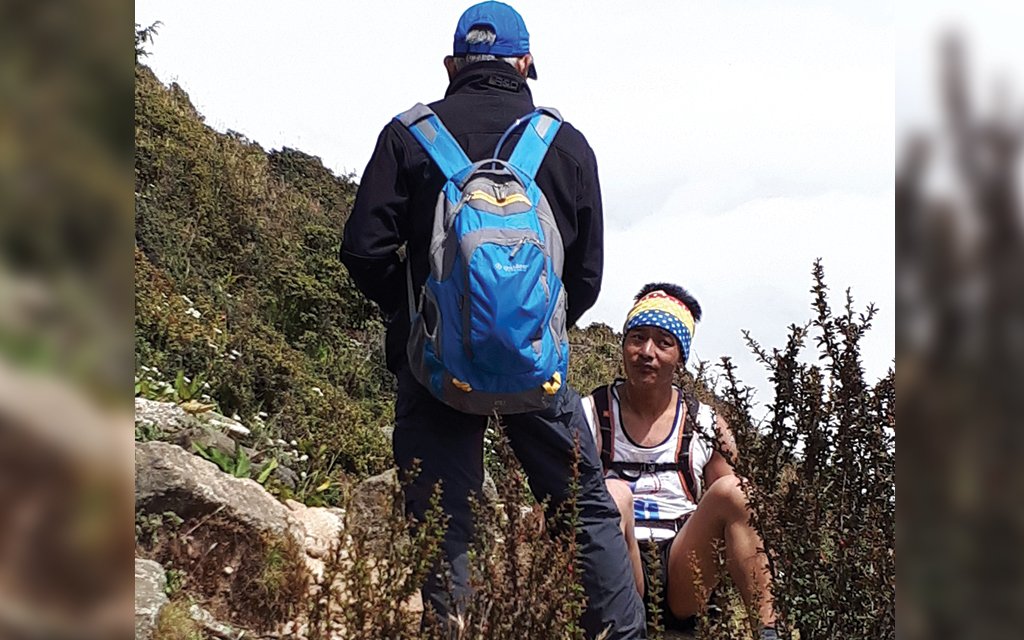 On way from Dingboche to Lobuche, after you climb the ridge above Thukla, you come across the "graveyard" where some of the world's famous mountaineers will "ever-rest" in peace – Babu Chiri Sherpa, Rob Hall, Scott Fischer, Hristo Pradanov and many, many others.
Babu Chiri Sherpa reached the summit not once but 10 times! He is credited with the record of submitting, all the way from Base Camp, in 16 hours and 56 minutes – a distance that normally takes 3 to 4 days with halts in 3 more high camps! He died in 2006 while photographing on his descent from the Everest summit.
Hall and Fischer who perished in the 1996 tragedy on the Everest have since been immortalized by an avalanche of books finally culminating in the film, Everest. In 1984, Hristo Pradanov, a Bulgarian, submitted from the west side and that too alone, without oxygen but lost his life during the descent.
And, finally, no Everest Base Camp / Gokyo Ri trek can start or end without Lukhla Airport named after Tenzing Norgay and Edmund Hillary. Those cowboy pilots to land and take off from a slanted runway (angle of 12 degrees). This airport is one of the 10 most dangerous airports in the world. Watch the short video I shot with my phone. Brilliant stuff!
God bless them all!
My New Year's Resolutions for 2018?
For sure, at least these two magnificent treks – a long trek from Hemis to Tso Moriri in Ladakh, India and the 3 Passes Trek (Kongma La, – 5540 mt asl, Cho La – 5420 mt asl and Renjo La – 5345 mt) in Nepal's Everest region.
Get fitter and stronger!
Learn to be more tolerant!
Blog regularly!
I am so excited to make new plans and new memories for you. Let's make this year as good as the last one.
GOD BLESS.