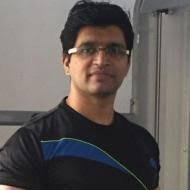 Vinayak Anant Kadam
ROLE:
Senior Faculty and National Master Trainer in Plyometrics, Functional Strength Training, HarTrain and Advanced Strength Training
QUALIFICATIONS:
Vinayak is trained and certified in Focus Awards (UK) Education & Training.
His credentials include –

Certified Fitness Trainer – Levels 2 and 3 Diploma in Personal Training (No. 1 Fitness, UK)
ISSA (USA) CFT
Pilates on Mat Teacher
Master Trainer certifications from Gāyo Fitness Academy.
EXPERIENCE:
With over 21 years of experience, Vinayak is considered to be one of Mumbai's seniormost personal trainers with a holistic approach.
Fluent in English, Marathi and Hindi, Vinayak has presented strength training programs on behalf of Gāyo Fitness Academy in Gujerat, Madhya Pradesh and Punjab..
CONTACT:
GĀYO +912249240498 / +918104839793